This is a guest post from filmmaker Seth Hymes. He is particularly qualified to discuss the pros and cons of film school as he is a graduate and former instructor at NYU Film School.
Film schools are a wonderful opportunity to acquire basic filmmaking techniques and mingle with others interested in making movies. They allow a chance to experiment and study in a very structured and thorough way.
But, sad to say, I've gotten to know so many USC and NYU film school graduates who find themselves deeply in debt, without a job, and having no clue how they can make a living working in the film industry. At the same time I've gotten to know many more independently minded individuals who are thriving in the film industry but never got a traditional film school degree.
Today there are more and more lower-cost alternatives to traditional film schools and my goal in this post is to explore the pros and cons of investing in a traditional degree school versus the many other options available.
Film school students tell me the biggest benefit they believe they would get from film school is the invaluable connections and opportunities for employment. These students must have never looked at the job bulletin boards of their schools. Here is a typical example of NYU's weekly job opportunities email: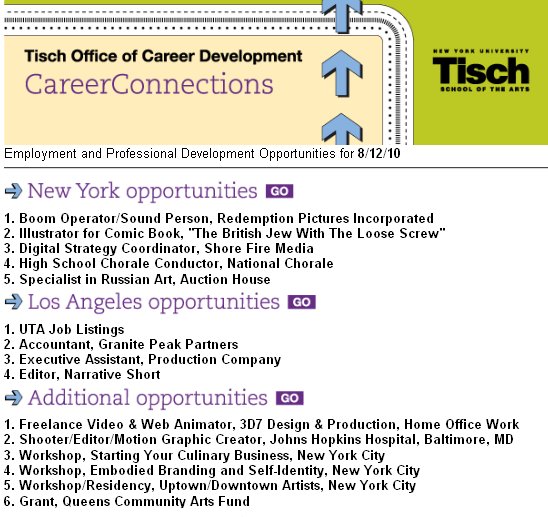 NYU has been sending me these emails for more than 10 years and they all look just like this. The majority of the openings aren't even for film related work. The few that are related to filmmaking are for very low paying  jobs anyone can find as easily on Craig's List. The job bulletin boards from USC, UCLA and NYFA are no better.
The truth is that film production companies do not contact film schools to fill job openings. When I arrived in Los Angeles I put my application in at the Leslie Comer elite temp agency. This agency specializes in filling entry level jobs at NBC, Fox, Paramount and the other studios.
My film school degree was not considered important. In fact my agent recommended I put my degree in a footnote at the bottom of the resume. He assured me that all the studios wanted to see was what actual film related work I had done lately. They would be far more impressed by my having worked as a sound mixer and been a gaffer on 2 feature films.
My wonderful NYU film degree was an unimportant detail that would mean no more than if I had listed that I was in my high school's chess club. Unlike in many other industries film studio hiring managers don't care about degrees. They only want to know about real work experience you've had.
Are The New Art Institutes Any  Better?
The New York Film Academy started a trend and now there are Art Institute run film schools all over middle America. They try to copy the curriculum of the famous schools but condense it into a shorter time frame, taught by low-paid instructors, while still charging $30,000 and more per student.
The Art Institute has a huge advertising budget which it can easily afford because its business model is very profitable. The parent company, Educorp, is a massive multi-billion dollar corporation that has found the "for-profit university" business to be extremely successful for them.
The traditional degree schools like NYU also have multi-million dollar advertising budgets and make large profits from the $40,000 per year the students pay.
But almost none of the grads will make as much as $40,000 in annual salary after graduation. Don't believe me? Check this chart from the Art Institute: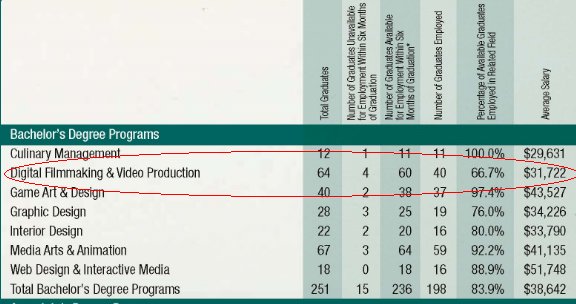 These figures tell the truth about working in the film industry as a film school grad. Film school grads have the lowest placement percentage and generally the lowest starting salaries of any of the Art Institute graduates. $31,000 is typical, which after taxes is barely more than $450 per week, and that's for a week that is a lot more than 40 hours. How are you going to pay $600 per month payments on your $100,000 film school loan on such a tiny income?
This photo taken on a film set illustrates the sad situation for today's film school alumni:
Almost everyone in the picture, and a couple of guys out of view, are film school grads from top schools with educational loans ranging from $30,000 to $100,000 but they are all making minimum wage, except for the guy sitting in the chair. The guy in the chair is Glynn and he is the director of the film. Glynn never went to film school and, in fact, he is a high-school drop-out.
He's worked on major movies for the last 10 years, networking and making breaks for himself to get to where he is now directing films and bossing crews of film school grads.
I asked some of the grads if they wanted to direct films and they all said "yes" but not one of them had any idea how to get there. There's a good reason for that. Although film schools teach basic techniques and a lot of theory none of them teach the real business and creative skills need for a successful filmmaking career.
There are many reasons for this but a major one is that the instructors at film schools are themselves mostly failed filmmakers, otherwise they would be working in the field and not be low-paid teachers. How can someone teach you to succeed if they don't know how themselves?
As the respected film educator and Quentin Tarantino's mentor, Dov Simens,  has pointed out: less than 1% of film school grads ever find even minimal success at filmmaking. The filmmakers that succeed tend to be the creative, ambitious, DIYers with a burning desire to make movies who are much too impatient to waste four years of their lives in a classroom listening to lectures.
Are There Cheaper Film School Alternatives?
Spending some time in a disciplined learning environment is still of value for learning basic skills and spending time with other like-minded individuals. There are a couple of low-cost options that offer a lot of value.
1) Local community colleges such as Orange Coast Community College in Los Angeles has  the same equipment as the very expensive schools like NYU or USC. Because the cost of digital equipment has gotten so cheap it is possible for these small schools to set up excellent facilities on a budget and they cost a tiny fraction of the costs of the name schools. They often offer alumni connections and internships that can lead to real opportunities.
After my graduation from NYU I was able to obtain an internship at Fox News Channel, but a buddy of mine, who went to a community college in New Jersey, got a similar internship offer years sooner. By the time I graduated and got my internship he was already well on his way up the promotion ladder. My fancy degree meant nothing to Fox News.
2) Get on the film sets of students attending those expensive film schools for free and learn right along with them. You may find it hard to believe but you can easily get on  the sets of NYU, USC or NYFA student films without spending a penny. You will get to hear the same instructions and have the same experience as students spending $30,000 or more a year.
You can also get onto professional motion picture sets, and even be paid. You will learn massive amounts every day and be building your resume and making connections towards a real career.
Film school was a fun experience for me in many ways but also a bitter learning experience. Make sure you do your research before you commit years of your life and tens of thousands of dollars.
In Hollywood it's the quality of what you've done, not your name on a degree that counts for everything!